CLSI is able to provide a full range of land surveying services for a variety of types of private and public sector projects. With over 40 years of survey experience, we have the ability to provide services throughout the life of the project from field surveys and title / deed research to construction stakeout and as-built surveys. Our combination of experienced office and field staff as well as licensed and registered surveyors provides our clients with the depth of resources to get the project done in a timely and a cost effective fashion.
We currently have four survey crews on the street. The survey crews are supported by a licensed surveyor and multiple survey technicians. The field personnel use several types of survey equipment to collect data for as-builts, base topography for design and to stakeout property boundaries, utilities and buildings. We have several types of equipment including total stations, GPS, and robotics. GPS equipment is used to transfer control long distances and collect topographic information on open sites.
High-tech electronic field instruments are coupled directly to our computer-aided plotters, maximizing accuracy and speed, to provide superior quality surveying services emphasizing quality control through all phases of engineering design, land development and construction with a high degree of personal commitment to our diverse group of clientele.
CLSI has been providing quality surveying and engineering services throughout Maryland and Pennsylvania since 1965. The company adheres to the philosophy of producing quality work and on a schedule according to the clients plan and budget. We have developed a reputation for providing service according to the highest level of standards, utilizing the latest in Surveying and Engineering technology.
CLSI serves clients on a full range of surveying assignments, including residential, commercial building and parking, highway, subdivision and all utilities associated.
Field Services
Field services are the support services for civil / site engineering design efforts. Field work requires particular flexibility. Weather, mobility, and timing require an independent departmental status to be responsive to project schedules and unique needs. Our survey division functions in this manner working directly for clients as well as in support of other engineering efforts internally with the same priority and level of effort. Virtually all projects require field services at some point to provide base information for design and permitting.
Topographic and Planimetric Surveys
When in the field, our experienced crews collect data with state of the art Topcon (robotic) Total Stations and Trimble GPS, both with on-board Tripod Data System data collection. We are able to construct digital terrain models used in different engineering and permitting efforts. In the office, our survey technicians utilize the most advanced computer-aided drafting and design software available. These technologies not only insure the highest quality of work product, but also allows us to work at top efficiency to keep your costs to a minimum.
We are dedicated to providing the most thorough site surveys possible through investigative property and utility research, potential site problem analysis and conflict resolution.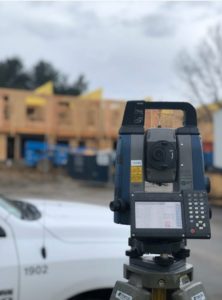 ALTA and Boundary Surveys
CLSI has a project team that is specifically organized for boundary surveys, ALTA/ACSM surveys, and historical title/boundary research. This team consists of a project leader, CADD operator, title abstracter, and a field crew working together on each boundary CLSI establishes. CLSI has completed numerous boundaries for our development projects as well as boundary surveys for municipalities, real estate trust departments of major lending institutions, and the district court.
Construction Stakeout / As-Builts
CLSI construction stakeout crews have been able to spend more time putting stakes in the ground and less time computing stakeout ties by using handheld stakeout computers. Road and utility alignments established at the design phase of a project, are uploaded to the computer for stakeout. As the crew establishes offsets and grades, the software automatically stores the necessary information. At the end of the day, each crew prints a cut sheet of the day's work.
Control Surveys
Many larger projects require a solid control network for aerial topography, surveys of boundaries, right-of-ways, and location of environmentally sensitive areas. CLSI has been providing these networks by utilizing the highest quality field equipment available. CLSI also utilizes the Global Positioning System to establish control to sites that in the past, would not have been easily accessible.